(گل حيات جي ميڙي چونڊيءَ مان)
"

مارچ 1918 واري سنڌ صوبائي ڪانفرنس"

---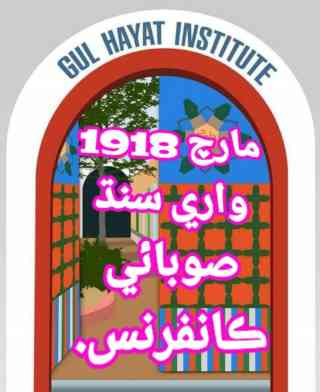 " مارچ 1918 واري سنڌ صوبائي ڪانفرنس".
مون وقت بہ وقت "سنڌ پراونشل ڪانفرنسن" بابت پئي لکيو آھي ۽ ور ور ڏئي لکڻ جو مقصد هي هوندو آھي تہ اهو ٻڌائي سگهان تہ اسان جي سياسي لٽريچر پڙھندڙن گل حيات طرفان گڏ ڪيل هن مواد مان اڃا فائدو ڪونہ ورتو آھي. ٻن ھزار صفحن وارو هي مواد گل حيات کان سواءِ ڪنهن وٽ بہ ڪونہ آھي. هي مواد منھنجي والد ان وقت مختلف اخبارن مان هٿ سان لکيو, جڏهن اڃا فوٽو اسٽيٽ جي سهولت بہ ڪانہ هئي ۽ غريب هجڻ ڪري بابا پنهنجو ٽائيپ رائيٽر بہ خريد ڪري نہ پيو سگهي.
ڪانفرنسون سنڌ جي مسلمان, هندو, پارسين ۽ سکن جي گڏيل ڪوششن جو نتيجو هو. هي اهو زمانو هو جڏهن سنڌين دين ڌرم ۽ رنگ نسل جي بنياد تي سياسي صفبندي ڪانہ ڪئي هئي. سنڌ سڀ جو موضوع, مرڪز ۽ محور هوندي هئي. هي ساليانيون ڪانفرنسون سنڌ جي مختلف ضلعن ۾ ٿيون.
30 مارچ 1918 تي اهڙي ڪانفرنس ڪراچيءَ ۾ ٿي هئي. ڪانفرنس جي صدارت شڪارپور واري مرليڌر جيرامداس ڪئي هئي. هن ڪانفرنس ۾ سنڌ جي ڪنڊ ڪڙڇ کان 500 ڊيليگيٽس آيا هئا. ڪانفرنس ۾ جيڪي مشهور سياستدان شريڪ ٿيا هئا, انھن مان ڪي آھن: هرچندراءِ وشنداس, غلام علي چاڳلا, راءِ بهادر هيرانند کيمسنگ, لوڪومل چيلارام, مکي ڄيٺانند, سنتداس منگهارام, آر.ڪي.سڌوا, ڊاڪٽر چوئٿرام وغيره
ڪانفرنس ۾ ڪيترن تي موضوعن ۽ مسئلن تي ٺهراءَ پاس ڪيا ويا, جهڙوڪ:
1). تعليم جي ابتر حالت کي سڌارڻ لاءِ مطالبو,
2). سنڌ پريس تي حڪومت جي سختيءَ جي مذمت,
3). شاگردن کي سياسي سرگرمين ۾ حصي نہ وٺڻ بابت سرڪاري منع نامي جي مذمت,
4). ڪانگريس ۽ مسلم ليگ جي باهمي لاڳاپن کي بهتر بنائڻ جو عزم,
5).سنڌ جي وڪيلن مان جج مقرر ڪرڻ جو مطالبو,
6). سنڌ ۾ پاسپورٽ ٺھرائڻ ۾ پيش ايندڙ دشوارين ختم ڪرڻ بابت مطالبو,
هن ڪانفرنس ۾ جملي 22 ٺھراءَ پاس ڪيا ويا هئا.
ڪانفرنس جي صدر پنهنجيءَ تقرير ۾ سنڌ بابت جيئن ويچار ونڊيا, اهي جيئن جو تيئن هتي ڏيان ٿو:
" It is anomoly that Sindh is still on the list of SHEDULED DISTRICTS although with Karachi rivailing Bombay. It has been advancing commerciaally and though in consequence of Mesopotamian conquest, itsabbat geographical importance is an assured and unprecedented one.
Whatever be the view adopted to the political status that Sindh may occupy in the proposed reforms, we all are unanimously agreed that Sindh Commissioner'sabbat Act of 1868, that has remained with us for a half century, out to be abolished and one man's rule ought to end".